WordPress is a free website-building tool that was initially created as a blog publishing system. Over the years, it has evolved and transitioned into a multi-type system that supports full-featured Content Management systems (CMS), Learning Management systems (LMS), E-Commerce, and so on. This blog breaks down the pros and cons of WordPress to help you decide whether to develop your website with WordPress or move on to a better alternative.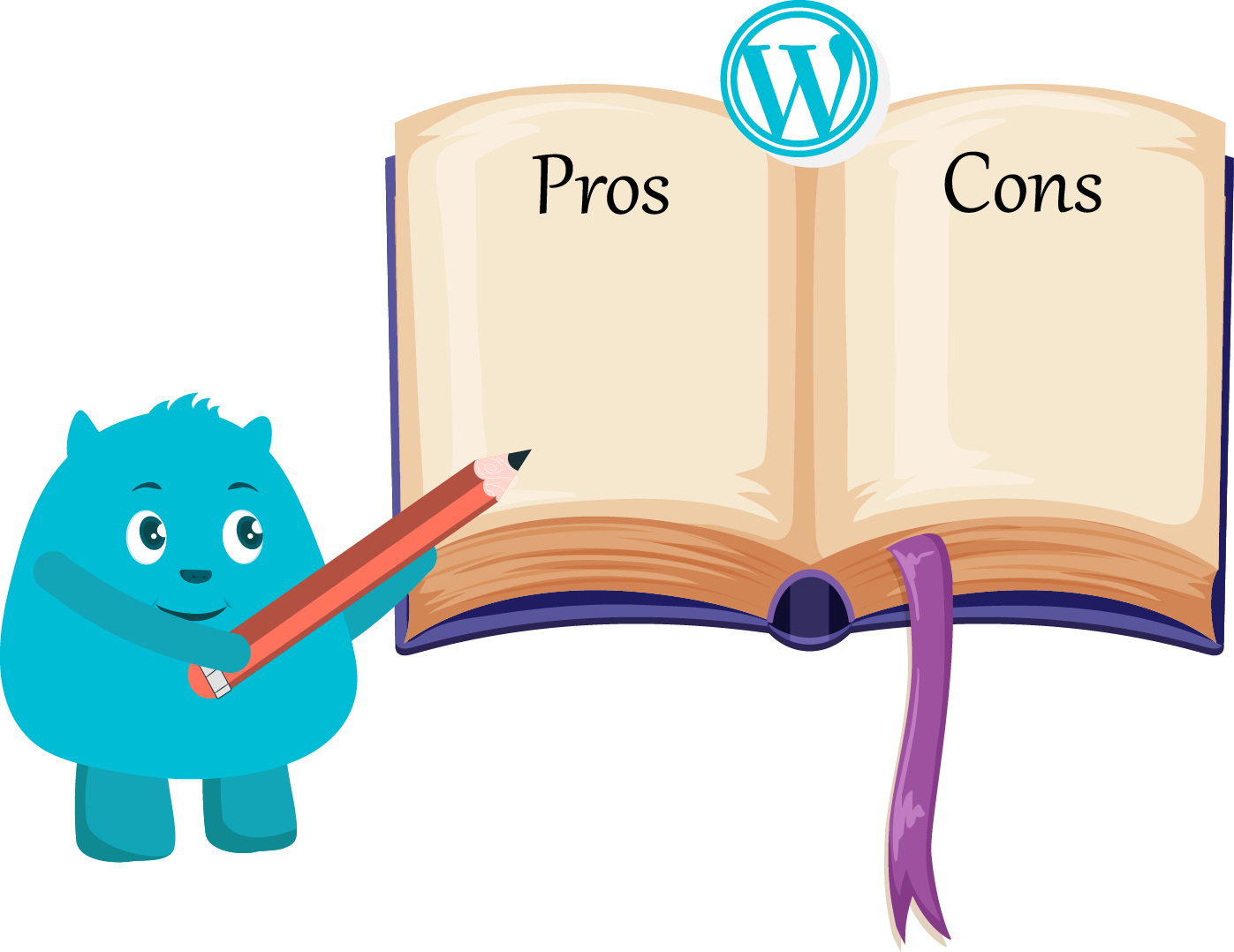 The primary reason that most people use WordPress for building websites is that it only needs basic web knowledge to start. Since it requires no code/programming knowledge, small business websites and Freelance-starters usually go with WordPress when starting their first website.
However, with all the perks and simplicity, some downsides also revolve around it when developing websites with WordPress.
Pros of Using WordPress:
Ease of Use:
WordPress is incredibly easy to set up and install as most hosting providers provide one-click installations. Moreover, you don't have to be a developer or from a technical background to start using it. Website owners can easily edit and maintain their websites themselves, from publishing blogs to updating product pages and switching between designs in a few clicks.
Open Source
One of the perks of using WordPress is that it is an open-source CMS. Developers from all over the world can edit, create, and manage the plugins, and themes or customize the website up to their needs. If you're struggling with your website and need a bit of advice, you can get help from tons of online forums to discuss your issue and openly share code.
Plugins for almost any purpose
WordPress solely relies on its plugins to carry out any type of functionality or task. This contributes heavily to WordPress' popularity today. It has over 50,000 plugins to customize and adapt to the constantly changing trends of online media. WordPress currently powers 40% of the websites on the internet. Whether you want to optimize your website for SEO, start your E-commerce business, or create an LMS, WordPress plugins will take care of all.
A vast variety of themes
With WordPress, you don't need to hire a professional web designer to design a theme for your website. It comes with over 9000 built-in themes that fit your needs. Moreover, you can also get unique theme templates for a fee at commercial websites like ThemeForest, WooThemes, StudioPress, etc.
SEO Friendly
WordPress websites are pre-optimized for SEO because WordPress codes are clean and easily crawlable. Search engines like simple and clean codes. With such a large community, it offers several SEO plugins as well. These plugin guides the users to target words and phrases that may be used as keywords and help their site appear on a better search result page.
Cons of Using WordPress:
Learning Curve
While WordPress does not require coding/programming knowledge, it does require basic web development knowledge. Therefore, one must be familiar with the basics of web design, web content, maintenance, etc. The point is not that one should be an expert in the above-mentioned skill set, but some knowledge will surely help.
Updates:
Generally, WordPress offers minimal maintenance support. However, installing updates is important to keep your site secure and up to date with the latest updates. Most of the time, the new update causes compatibility issues and affects the site's performance. The issue could be a plugin/theme coming into conflict with other components' code. This causes the user to revert to the previous update.
Third-Party Plugins and Themes
Since anyone can design a WordPress plugin and theme, not all are optimized effectively. There are a lot of third-party plugins/themes available which make your website vulnerable to potential threats. Threats like malicious codes can damage or come in conflict with your site's functionality.
Maintenance
With WordPress, you have to regularly update your plugins, themes, WordPress core, and even your PHP version. If any one of these is incompatible with another, it has the potential to cause havoc to your website and leave it vulnerable to hackers and security exploits.
Since WordPress is free and open-source, there always exists compatibility issues between these plugins and themes. The main reason behind these issues is the lack of communication between the third-party developers. So, even if one of your plugins goes outdated, it has the potential to open a variety of loopholes to affect your site.
Speed:
Most third-party WordPress themes and plugins contain a lot of unoptimized or unnecessary code which affects your website speed. According to Google, slow sites are proven to increase bounce rates significantly. Slow site speed time will not only annoy your visitors but also lowers your page ranking on Google or other search engines.
Summary:
In conclusion, even though the pros of using WordPress significantly outnumber the cons, the above-mentioned advantages are the most generalized ones. Therefore, if you want to build an interactive and user-friendly CMS/LMS or E-Commerce website, WordPress is the best platform for you. However, WordPress being an open-source CMS is a big advantage but at the same time, it is also the biggest factor that contributes to the opening of a variety of loopholes i.e. security and performance. So, to mitigate the risk, it is always a good practice to be knowledgeable of the quality of the plugin/theme when choosing it.
* Now, if you're going to create your first WordPress website, checkout our previous blog on How to Build a WordPress Website which will help you through the process 🙂 *